As recently reported by TechCrunch, Nigeria became the first country in Africa to pilot its central bank digital currency (CBDC). Many other African countries are following suit, with Ghana at an advanced stage of rolling out its e-cedi, and the Bank of Zambia carrying out research on digital currencies.
From mobile money to central bank digital currencies, these digital innovations increase the visibility, efficiencies, and trust in the financial economic landscape of African countries. But the benefits don't stop there. They also help to maintain a stable currency, encourage foreign direct investment, and enhance other financial intermediaries.
So, why is CBDC and mobile money key for African countries? In a nutshell, these offerings are socially inclusive and accessible. The flexibility and scalability of CBDCs means that towns, cities, resorts and even the hardest to reach areas can become part of the national economy in ways that weren't previously possible. This is also a huge benefit to Governments and Central Banks who are able to regulate and manage financial activities, increasing tax revenues and strengthening the state's credit rating.
Mobile money is growing quickly in Sub-Saharan Africa: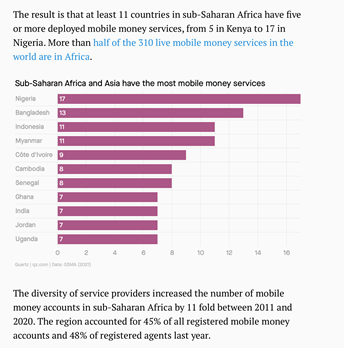 QuartzAfrica
A current example of where mobile money technology is being deployed is by a Central bank in Southern Africa where the bank has commissioned a mobile money and data analytics pilot to optimise the mobile money transfers ecosystem with a consumer-friendly and cost-effective solution. This provides an alternate mobile money solution for consumers and will show visibility of all transactions. It also creates a seamless currency conversion mechanism for the dual currency and uses big data and data analytics to understand consumer behaviour. Projects like this supported by the banking system is a first step into digital money in a more regulated environment which creates trust, transparency and transaction protection for consumers.
But how does this work? It is about applying blockchain technology that is ultra-fast, infinitely scalable, quantum secure, and energy efficient – which ensures it is environmentally friendly.
This is where Temtum's temporal blockchain comes in. The temporal blockchain has near zero energy usage and can scale rapidly to be used by millions of users via smartphones, Internet of Things devices, drones, and cars. Temtum's technology can also be used across SMS text from basic non-smartphone mobiles – ideal for countries with low levels of internet penetration or poor infrastructure
Its transactions per second (tps) surpasses other providers with Temtum, boasting over 120,000tps in comparison to VISA's 56,000tps. It's clear that Temtum is strongly positioned to support African nations with their adoption of CBDCs through fast, scalable, and green technology.
CBDCs are just one way that African economies can benefit from blockchain technology. Blockchain can be utilised in a range of government functions including securing and verifying legislation records, cyber protection, and healthcare. Temtum continues to build relationships with the Governments of various African states to support them through the blockchain revolution. Take this Tweet from the Ugandan Government as an example!
To learn more about Temtum and the possibilities for African economies, get in touch below.